Affordable Unbreakable Connectivity
The UBR LTE provides an all-in-one WAN solution for industrial deployments with GE WAN, 4X GE LAN, and 2X LTE connectivity as well as Peplink's SpeedFusion SD-WAN bonding technology.
1 x GE WAN Ports

4 x GE LAN Ports

2 x LTE Modems

SpeedFusion Bandwidth Bonding
Get it all with PrimeCare
Hardware Warranty
Software Upgrades
InControl2 Access
SpeedFusion
Straight out of the box, the UBR LTE provides unbreakable connectivity with PrimeCare, which includes SpeedFusion functionality, FusionHub licenses, and browser-based SD-WAN management with InControl.
Built to Last
DIN mounts and Molex power connectors let the UBR LTE integrates seamlessly with your existing equipment racks. In addition, the fanless, ruggedized chassis supports an extended operating temperature range.
Traffic Steering
Instantly recognize the application for each packet. Then apply different outbound policy, firewall rules, or even SpeedFusion technologies to the traffic depending on its application.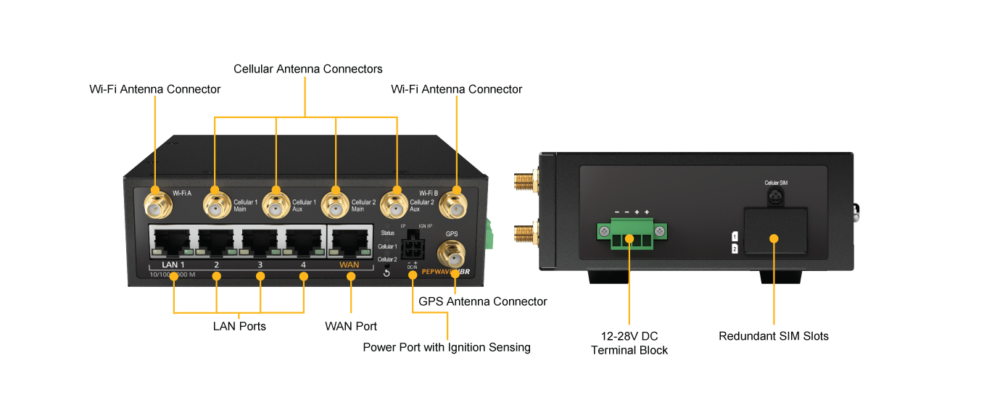 Photos
WAN
Support for PPPoE, Static IP, DHCP
WAN Link Health Check
Bandwidth Allowance Monitor
Support for Dynamic DNS services
WAN Port Convertible into LAN Port


LAN
DHCP Server for LAN Clients
Extended DHCP Option
DHCP Reservation
DNS Proxy for LAN Clients
VLAN on LAN Support

Security
Stateful Firewall
DoS Prevention
Web Blocking
Complete VPN Solution
SpeedFusion VPN/SpeedFusion Hot Failover^
-Site-to-Site VPN
-Hot Failover
-256-bit AES Encryption
-Pre-shared Key Authentication
IPsec VPN (Network-to-Network)
Global Positioning System
Integrated GPS
Device Location Map
Location Tracking Data with InControl 2
Fleet Management with InControl 2
Advanced QoS
Individual Bandwidth Limit
Application Prioritization
-SIP, HTTPS, VPN QoS
-Custom Application QoS


Networking
NAT and IP Forwarding
Static Routes
Port Forwarding
Many to One, One to One NAT
NAT Pool
SIP ALG, H.323 ALG
UPnP, NAT-PMP
Captive Portal
Support for Wired and Wireless LAN clients
Support RADIUS Authentication
Time and Usage Quotas on Open Access Mode
Built-in Customizable Splash Page
Device Management
Web Administrative Interface
Command Line Interface
InControl Cloud Management
Email Notification
Active Client & Session Lists
Bandwidth Usage Statistics
Syslog Service
SNMP v1, v2c and v3

^ Requires PrimeCare Subscription, complimentary for the first year.

All specifications are subject to change without notice.

Product Code
Region | Carrier
Embedded Modem
4G Bands
3G Bands
UBR-LTE-E-T-PRM
Europe/
International/
CAT-4

2
B1, B3, B5, B7, B8, B20, B38, B40, B41
WCDMA/HSPA+/DC-HSPA+: B1, B5, B8


UBR-LTE-MX-T-PRM
Latin America/
Australia/ CAT-4
2
B1, B2, B3, B4, B5, B7, B8, B28, B40
WCDMA/HSPA+/DC-HSPA+:
B1, B2, B5, B8
UBR-LTE-US-T-PRM
America/
CAT-4
2
Cellular 1: B1, B2, B3, B4, B5, B7, B8, B12, B13, B20, B25, B26, B29, B30, B41 Cellular 2: B12, B14, B4, B2, B5, B13, B66, B71
Cellular 1: WCDMA/HSPA+/DC-HSPA+: B1, B2, B3, B4, B5, B8 Cellular 2: B2, B4, B5

| | |
| --- | --- |
| Product Code | Description |
| PRM-B-1Y | PrimeCare B (1-Year) |
| PRM-B-2Y | PrimeCare B (2-Year) |
| PRM-B-4Y | PrimeCare B (4-Year) |
| PCP-B-1Y | PrimeCare+ B (1-Year) |
| PCP-B-2Y | PrimeCare+ B (2-Year) |
| PCP-B-4Y | PrimeCare+ B (4-Year) |
| ACW-DIN-M2MS | BR1 M2M / Slim / UBR DIN Rail Mount |
| PVN-LC-05 | Up to 5 SpeedFusion VPN/ SpeedFusion Peers License Key for Selected Models |
| LIC-OPN-WAN | OpenVPN WAN License |
| ACW-643 | Vehicle Cigarette to Molex Power Cable |

UBR LTE

12V2A Power Supply (ACW-632)

2x Wi-Fi Dual Band Antenna (ACW-341)

4x 4G LTE Antennas (ACW-813)

1x GPS Antenna (ACW-232)

4pin Terminal Block Connector

Rubber Foot Pad Set