Ready for Any Environment
Fanless Design
Thrives in high-particle environments that would break other fan-based routers.
8×802.3at PoE Outputs
Power your IP phones, cameras, and access points.
Robust Metal Enclosure
Same dimensions as the previous HD4, so it can fit seamlessly into any of your previous deployments.
Compatible With:
Compatible on all major carriers. Certified with Verizon* and T-Mobile.
*Not applicable to MAX-HD2-MBX-5GH-T. Verizon Certification is in progress.
Ideal for On-The-Go Deployments
Ignition Sensing gives it the ability to turn on and off depending on whether the vehicle has started. Upon vehicle shutdown, the MBX can also shut down after a user-defined interval, saving the battery from excessive drain.
The HD4 MBX also supports the optional SIM Injector, which adds another 8 cellular providers to connect with. This mitigates weak spots in cellular coverage, ensuring consistent connectivity . If your deployment crosses national boundaries, you can also use the SIM Injector to load multiple SIM cards, preventing roaming charges.
FirstNet Ready & ESN Certified
FirstNet (band 14) provides first responders with a specialized LTE network with more priority and network capacity. The HD4 MBX supports band 14, providing additional coverage as the situation demands.
Device has been also certified by UK's Emergency Services Network (ESN).
Future Proof Design. Ready for 5G
Right out of the box, the HD4 MBX supports Gigabit LTE. For future technologies, the MBX features a swappable cellular module, so when you need to upgrade to 5G, you can simply swap your old one with a new one. The MBX is also capable of 2.5Gbps of throughput, giving you plenty of bandwidth for Gigabit Ethernet, 5G, or any future mobile technologies.
Pair with the 5G Ready Outdoor Antenna
The 5G ready Outdoor Antenna is suited to a wide range of outdoor public safety, mobile healthcare and even transportation deployments. It has support for extensive 5G global cellular frequencies including Band 71, ensuring enhanced reliability and coverage for any business-critical application.
Speed & Reliability. Brought by SpeedFusion™
SpeedFusion allows users to combine any number of connections together to form a point-to-point link to achieve what others cannot:
Combine the bandwidth of several mobile connections to form an ultra-fast data link. Sustain bandwidth-hungry and latency sensitive tasks without the need for fixed lines.
Hot Failover maintains secure tunnels over all available WAN links to keep the network up and running when a connection drops out. If a WAN link fails, SpeedFusion instantly routes traffic to a working tunnel for uninterrupted VoIP sessions.
SpeedFusion is carrier agnostic and our products are certified with multiple carriers. By combining the coverage network of several mobile carriers, chances of running into a network blindspot or congestion is minimized.
With the help of WAN smoothing network traffic will be assigned to WAN connection with the lowest latency. Use multiple WAN connections to create a single, jitter-free data stream.
Use Cases
The HD4 MBX Fits in a Variety of Scenarios
Live Streaming
Telemedicine
Branch Offices
Temporary Sites
Wi-Fi for Employees
Public Safety
Event Live Streaming and Connectivity
T
he cellular SpeedFusion SD-WAN connection provides all the bandwidth you need to stream HD video. What's more, our patented WAN Smoothing technology compensates for packet loss, ensuring smooth, jitter-free streaming.
Telemedicine
Using SpeedFusion, the HD4 MBX can combine the bandwidth of 4x Gigabit LTE connections to form a fast and reliable VPN connection that can handle the requirements of remote diagnosis, that requires large amounts of data, more data than a single cellular link can transfer in a timely manner.
Branch Offices
The HD4 MBX supports up to 8
x 802.3at PoE connections, enabling you to connect your IP phones, IP cameras, and access points with minimal cabling. It also delivers 802.11ac Wi-Fi with a customizable captive portal for guest access. The HD4 MBX comes equipped with SpeedFusion WAN Smoothing, mitigating packet loss and ensuring that your videoconferences are jitter-free.
Temporary Sites
By combining the bandwidth of up to 4x Gigabit LTE connections, you can perform fast and reliable connectivity no matter where the site is located. Quickly and safely transmit project data, emails, plans, and blueprints between personnel, sites, and headquarters.
Wi-Fi on Employee Shuttles
Peplink ecosystem has all features that are needed for a successful employee bus deployments.  It combines the bandwidth of 4x Gigabit LTE connections on a packet level, ensuring employee productivity remains uninterrupted when cellular connections break. With HD4 MBX you can also simplify your cabling since it supports 802.3at PoE standard. Moreover you can also incorporate Smart Readers and TA system to your deployment this way controlling bus access and tracking employee usage.
Public Safety
The HD4 MBX combines the bandwidth of 4x Gigabit LTE links into a fast, reliable, and secure SD-WAN connection, enabling you to stream high-definition video in real-time. This can all be achieved without investing in any infrastructure. With SpeedFusion-enabled devices on multiple vehicles and aerial resources, you can monitor the situation from multiple perspectives without needing a line-of-sight connection.
#PowerofPeplink in Action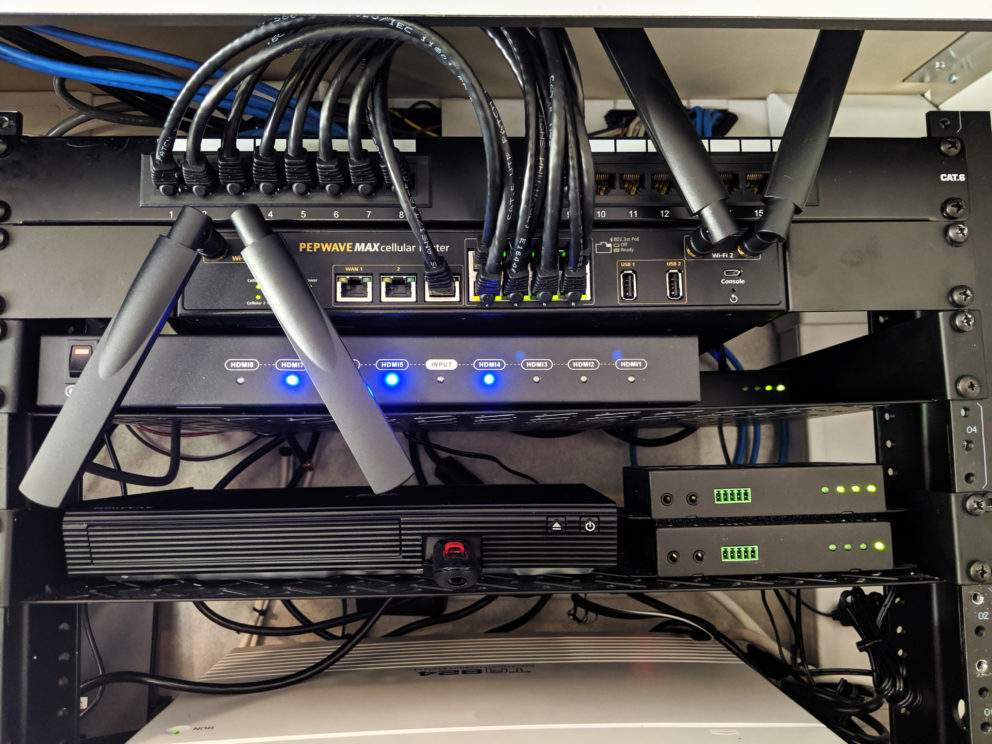 Experience on-demand connectivity with SpeedFusion Connect
Enabling the benefits of SpeedFusion has just gotten easier with SpeedFusion Connect. Allowing you to leverage the LTE of multiple connections and SpeedFusion technologies all under one subscription. Enabling backup connectivity has never been so simple!
*Compatible for use in the US and selected regions in Europe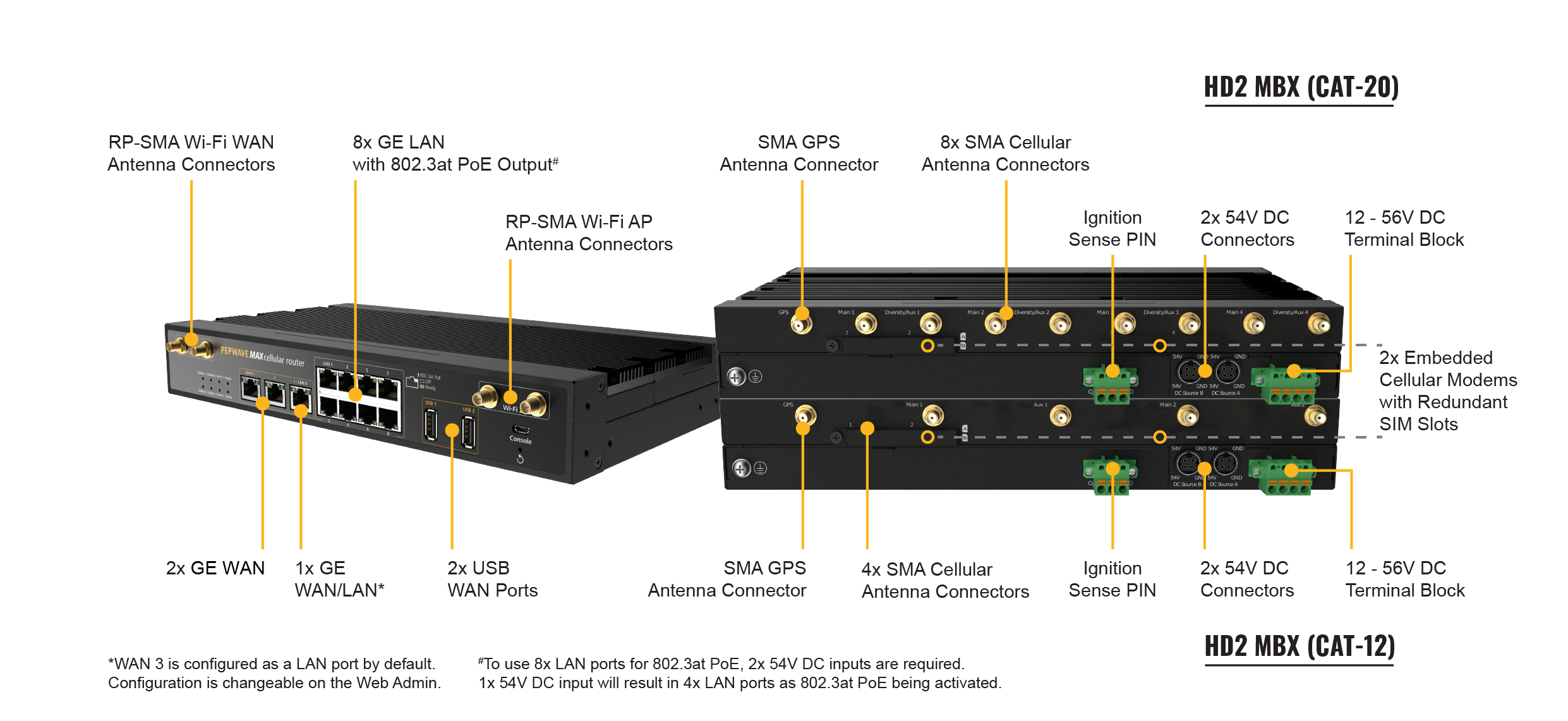 WAN
Support for PPPoE, Static IP, DHCP
WAN Link Health Check
PING
IPv6 Support
DNS Lookup
HTTP
Bandwidth Allowance Monitor
USB 4G/3G Modem Support
Intelligent Failover
Support for Dynamic DNS services
changeip.com
dyndns.org
no-ip.org
tzo.com
DNS-O-Matic

LAN
DHCP Server for LAN Clients
Extended DHCP Option
DHCP Reservation
DNS Proxy for LAN Clients
VLAN on LAN Support
Per-Port VLAN Support

Load Balancing
Intelligent Failover
Session Persistence
Per-Service Load Distribution
Multiple Algorithms
Weighted
Enforced
Persistence
Priority
Overflow
Least Used
Lowest Latency
Fastest Response Time

Complete VPN Solution
SpeedFusion VPN
Site-to-Site VPN
Bandwidth Bonding
Hot Failover
256-bit AES Encryption
Pre-shared Key Authentication
Dynamic Routing
PPTP VPN Server
RADIUS, LDAP Authentication
IPsec VPN (Network-to-Network)
X.509 Certificate Support

Advanced QoS
User Groups
Bandwidth Reservation
Individual Bandwidth Limit
Application Prioritization
By User Groups
SIP, HTTPS, VPN QoS
Custom Application QoS

Networking
NAT and IP Forwarding
Static Routes
Port Forwarding
Many to One, One to One NAT
NAT Pool
SIP ALG, H.323 ALG
UPnP, NAT-PMP
WINS Server
VRRP HA Support
BGP, OSPFv2 and RIPv2 Support

AP Controller
Auto AP Discovery
Auto AP Firmware Management
AP Profile Configuration
Wi-Fi Usage Statistics

Security
DoS Prevention
Stateful Firewall
Web Blocking
Web Filtering Blacklist

Captive Portal
Support for Wired and Wireless LAN Clients
Support RADIUS Authentication
Time and Usage Quotas on Open Access Mode
Built-in Customizable Splash Page

Device Management
Web Administrative Interface
Command Line Interface
InControl Cloud Management
Email Notification
Active Client & Session Lists
Bandwidth Usage Statistics
Syslog Service
SNMP v1, v2c and v3


Product Code
Carrier

Modems
4G Bands
3G Bands
MAX-HD2-MBX-LTEA-R-T
America / FirstNet Ready /
CAT-12
2
B1, B2, B3, B4, B5, B7, B8, B9, B12, B13,
B14, B18, B19, B20, B26, B29, B30, B32,
B41, B42, B43, B46, B48, B66
B1, B2, B4, B5, B6, B8, B9, B19
MAX-HD2-MBX-LTEA-D-T
APAC & EMEA / CAT-12
2
B1, B2, B3, B4, B5, B7, B8, B9, B12, B13,
B14, B17, B18, B19, B20, B21, B25, B26,
B28, B29, B30, B32, B38, B39, B40, B41,
B66
B1, B2, B4, B5, B6, B8, B9, B19
MAX-HD4-MBX-LTEA-R-T
America / FirstNet Ready /
CAT-12

4
B1, B2, B3, B4, B5, B7, B8, B9, B12, B13,
B14, B18, B19, B20, B26, B29, B30, B32,
B41, B42, B43, B46, B48, B66

B1, B2, B4, B5, B6, B8, B9, B19
MAX-HD4-MBX-LTEA-D-T
APAC & EMEA / CAT-12
4
B1, B2, B3, B4, B5, B7, B8, B9, B12, B13,
B14, B17, B18, B19, B20, B21, B25, B26,
B28, B29, B30, B32, B38, B39, B40, B41,
B66
B1, B2, B4, B5, B6, B8, B9, B19
MAX-HD2-MBX-GLTE-S-T

Global /
CAT-20

2
B1, B2, B3, B4, B5, B7, B8, B12, B13, B14,
B17, B18, B19, B20, B25, B26, B28, B29,
B30, B32, B34, B38, B39, B40, B41, B42,
B46 (LAA), B48, B66, B71
HSPA+/WCDMA: B1, B2, B3, B4,
B5, B6, B8, B9, B19
MAX-HD4-MBX-GLTE-S-T
Global /
FirstNet /
CAT-20
4
B1, B2, B3, B4, B5, B7, B8, B12, B13, B14,
B17, B18, B19, B20, B25, B26, B28, B29,
B30, B32, B34, B38, B39, B40, B41, B42,
B46 (LAA), B48, B66, B71
HSPA+/WCDMA: B1, B2, B3, B4,
B5, B6, B8, B9, B19
MAX-HD2-MBX-ESN-GLTE-S-T

Global / ESN
CAT-20

2
B1, B2, B3, B4, B5, B7, B8, B12, B13, B14,
B17, B18, B19, B20, B25, B26, B28, B29,
B30, B32, B34, B38, B39, B40, B41, B42,
B46 (LAA), B48, B66, B71
HSPA+/WCDMA: B1, B2, B3, B4,
B5, B6, B8, B9, B19
MAX-HD4-MBX-ESN-GLTE-S-T
Global / ESN
CAT-20

4
B1, B2, B3, B4, B5, B7, B8, B12, B13, B14,
B17, B18, B19, B20, B25, B26, B28, B29,
B30, B32, B34, B38, B39, B40, B41, B42,
B46 (LAA), B48, B66, B71
HSPA+/WCDMA: B1, B2, B3, B4,
B5, B6, B8, B9, B19

* China & HK TD LTE are excluded.

Product Code
Embedded modems
Regions
5G Bands
LTE Bands
MAX-HD2-MBX-5GD-T
2x 5G
Primary: APAC & EMEA
Compatibility: Global
5G (NSA) Sub 6Ghz:
n1, n2, n3, n5, n7, n8, n12,n20, n28, n38, n41,
n66,n71, n77, n78, n79
B1, B2, B3, B4, B5, B7, B8, B12, B13, B14, B17,
B18, B19, B20, B25, B26, B28, B29, B30, B32,
B34, B38, B39, B40, B41, B42, B46, B48, B66,
B71
MAX-HD2-MBX-5GH-T
2x 5G
Primary: North America *
Compatibility: Global
5G (NSA) Sub 6Ghz:
n1, n2, n3, n5, n28, n41, n66, n71, n77, n78,
n79
B1, B2, B3, B4, B5, B7, B8, B12, B13, B14, B17,
B18, B19, B20, B25, B26, B28, B29, B30, B32,
B34, B38, B39, B40, B41, B42, B46, B48, B66,
B71
MAX-HD4-MBX-5GD-T
4x 5G
Primary: APAC & EMEA
Compatibility: Global
5G (NSA) Sub 6Ghz:
n1, n2, n3, n5, n7, n8, n12,n20, n28, n38, n41,
n66, n71, n77, n78, n79
B1, B2, B3, B4, B5, B7, B8, B12, B13, B14, B17,
B18, B19, B20, B25, B26, B28, B29, B30, B32,
B34, B38, B39, B40, B41, B42, B46, B48, B66,
B71
MAX-HD4-MBX-5GH-T
4x 5G
Primary: North America ^
Compatibility: Global
5G (NSA) Sub 6Ghz:
n1, n2, n3, n5, n28, n41, n66, n71, n77, n78,
n79
B1, B2, B3, B4, B5, B7, B8, B12, B13, B14, B17,
B18, B19, B20, B25, B26, B28, B29, B30, B32,
B34, B38, B39, B40, B41, B42, B46, B48, B66,
B71

* US Carrier Certifications (MAX-HD2-MBX-5GH-T): AT&T, T-Mobile, US Cellular.
^ US Carrier Certifications (MAX-HD4-MBX-5GH-T): AT&T, FirstNet, T-Mobile, US Cellular, Verizon (C-Band).

Product Code
Embedded modems
Regions
5G Bands
LTE Bands
EXM-MBX-T2-5GD
2x 5G
Primary: APAC & EMEA
Compatibility: Global
5G (NSA) Sub 6Ghz
n1, n2, n3, n5, n7, n8, n12, n20,
n28, n38, n41, n66, n71, n77, n78, n79
B1, B2, B3, B4, B5, B7, B8, B12, B13,
B14, B17, B18, B19, B20, B25, B26,
B28, B29, B30, B32, B34, B38, B39,
B40, B41, B42, B46, B48, B66, B71
EXM-MBX-T2-5GH
2x 5G
Primary: North America
Compatibility: Global
5G (NSA) Sub 6Ghz
n1, n2, n3, n5, n28, n41, n66, n71,
n77, n78, n79
B1, B2, B3, B4, B5, B7, B8, B12, B13,
B14, B17, B18, B19, B20, B25, B26,
B28, B29, B30, B32, B34, B38, B39,
B40, B41, B42, B46, B48, B66, B71
EXM-MBX-T4-5GD
4x 5G
Primary: APAC & EMEA
Compatibility: Global
5G (NSA) Sub 6Ghz
n1, n2, n3, n5, n7, n8, n12, n20,
n28, n38, n41, n66, n71, n77, n78, n79
B1, B2, B3, B4, B5, B7, B8, B12, B13,
B14, B17, B18, B19, B20, B25, B26,
B28, B29, B30, B32, B34, B38, B39,
B40, B41, B42, B46, B48, B66, B71
EXM-MBX-T4-5GH
4x 5G
Primary: North America
Compatibility: Global
5G (NSA) Sub 6Ghz
n1, n2, n3, n5, n28, n41, n66, n71,
n77, n78, n79
B1, B2, B3, B4, B5, B7, B8, B12, B13,
B14, B17, B18, B19, B20, B25, B26,
B28, B29, B30, B32, B34, B38, B39,
B40, B41, B42, B46, B48, B66, B71

Product Code

Description

ACW-630

Includes 1x 54V, 3.34A Power Supply

Enable 4x LAN with 802.3at PoE output (PoE License automatically applied after kit purchase)

ACW-633

Includes 2x 54V, 3.34A Power Supply

Enables 8x LAN with 802.3at PoE output (PoE License automatically applied after kit purchase)

SIM-BK8-4E-56V

SIM Injector, 8x SIM cards capacity, 4x 10/100/1000 LAN ports, 56V DC

MAX-HD-020-SPF

Enable up to 20 SpeedFusion VPN Peers

SFN-LC-50

Enable up to 50 SpeedFusion VPN Peers

ECP-MAX-HD2-MBX-LTEA-RK-1Y

EssentialCare+ (1-Year) for MAX HD2 MBX LTEA (CAT-12)

ECP-MAX-HD2-MBX-LTEA-RK-2Y

EssentialCare+ (2-Year) for MAX HD2 MBX LTEA (CAT-12)

ECP-MAX-HD2-MBX-LTEA-RK-4Y

EssentialCare+ (4-Year) for MAX HD2 MBX LTEA (CAT-12)

SVL-MAX-HD2-MBX-LTEA-RK-1Y

1-Year EssentialCare for MAX HD2 MBX LTEA (CAT-12)

SVL-MAX-HD2-MBX-LTEA-RK-2Y

2-Year EssentialCare for MAX HD2 MBX LTEA (CAT-12)

ECP-MAX-HD2-MBX-5G-1Y

EssentialCare+ (1-Year) for MAX HD2 MBX (5G)

ECP-MAX-HD2-MBX-5G-2Y

EssentialCare+ (2-Year) for MAX HD2 MBX (5G)

ECP-MAX-HD2-MBX-5G-4Y

EssentialCare+ (4-Year) for MAX HD2 MBX (5G)

SVL-MAX-HD2-MBX-5G-1Y

1-Year EssentialCare for MAX HD2 MBX (5G)

SVL-MAX-HD2-MBX-5G-2Y

2-Year EssentialCare for MAX HD2 MBX (5G)

ECP-MAX-HD2-MBX-GLTE-G-1Y

EssentialCare+ (1-Year) for MAX HD2 MBX (CAT 18)

ECP-MAX-HD2-MBX-GLTE-G-2Y

EssentialCare+ (2-Year) for MAX HD2 MBX (CAT 18)

ECP-MAX-HD2-MBX-GLTE-G-4Y

EssentialCare+ (4-Year) for MAX HD2 MBX (CAT 18)

SVL-510

1-Year EssentialCare for MAX HD4 MBX LTEA (CAT-18)

SVL-708

2-Year EssentialCare for MAX HD4 MBX LTEA (CAT-18)

ECP-MAX-HD4-MBX-5G-1Y

EssentialCare+ (1-Year) for MAX HD4 MBX 5G

ECP-MAX-HD4-MBX-5G-2Y

EssentialCare+ (2-Year) for MAX HD4 MBX 5G

ECP-MAX-HD4-MBX-5G-4Y

EssentialCare+ (4-Year) for MAX HD4 MBX 5G

SVL-MAX-HD4-MBX-5G-1Y

1-Year EssentialCare for MAX HD4 MBX (5G)

SVL-MAX-HD4-MBX-5G-2Y

2-Year EssentialCare for MAX HD4 MBX (5G)

LIC-VWAN

Activate 1x Virtual WAN

LIC-2VWAN

Activate 2x Virtual WAN

LIC-3VWAN

Activate 3x Virtual WAN

MAX HD2 MBX (CAT-20)

MAX HD2 MBX
1x PSU 180W (ACW-630)
4x Wi-Fi Dual Band Antenna (ACW-341)
1x GPS Antenna (ACW-232)
8x LTE/5G Antennas (ACW-234)
1 Pair of Mounting Brackets (ACW-513)
3pin Terminal Block Connector (Ignition sense)
4pin Terminal Block Connector (Power supply)
Grounding cable
Rubber Foot Pad set

MAX HD2 MBX 5G

MAX HD2 MBX
1x PSU 180W (ACW-630)
4x Wi-Fi Dual Band Antenna (ACW-341)
1x GPS Antenna (ACW-232)
8x LTE/5G Antennas (ACW-235)
1 Pair of Mounting Brackets (ACW-513)
3pin Terminal Block Connector (Ignition sense)
4pin Terminal Block Connector (Power supply)
Grounding cable
Rubber Foot Pad set

MAX HD4 MBX (CAT-12)

MAX HD4 MBX
1x PSU 180W (ACW-630)
4x Wi-Fi Dual Band Antenna (ACW-341)
1x GPS Antenna (ACW-232)
8x LTE/5G Antennas (ACW-234)
1 Pair of Mounting Brackets (ACW-513)
3pin Terminal Block Connector (Ignition sense)
4pin Terminal Block Connector (Power supply)
Grounding cable
Rubber Foot Pad set

MAX HD4 MBX (CAT-20)

MAX HD4 MBX
1x PSU 180W (ACW-630)
1x QMA to SMA Adaptor (for GPS)
1x GPS Antenna (ACW-232)
1 Pair of Mounting Brackets (ACW-513)
4x Wi-Fi Dual Band Antenna (ACW-341)
3pin Terminal Block Connector (Ignition sense)
4pin Terminal Block Connector (Power supply)
Grounding cable
Rubber Foot Pad set

* Cellular antennas not included. To enhance the MBX, Mobility and Maritime antennas are recommended.

MAX HD4 MBX 5G

MAX HD4 MBX
1x PSU 180W (ACW-630)
1x QMA to SMA Adaptor (for GPS)
1x GPS Antenna (ACW-232)
1 Pair of Mounting Brackets (ACW-513)
4x Wi-Fi Dual Band Antenna (ACW-341)
3pin Terminal Block Connector (Ignition sense)
4pin Terminal Block Connector (Power supply)
Grounding cable
Rubber Foot Pad set

* Cellular antennas not included. To enhance the MBX, Mobility and Maritime antennas are recommended.

| Product Code | Description |
| --- | --- |
| ANT-MB-42G-S-W-6 | 7-in-1 Cellular and Wi-Fi Antenna System with GPS Receiver (White) |
| ANT-MB-42G-S-B-6 | 7-in-1 Cellular and Wi-Fi Antenna System with GPS Receiver (Black) |
| ANT-MB-40G-S-W-6 | 5-in-1 Cellular Antenna System with GPS Receiver (White) |
| ANT-MB-40G-S-B-6 | 5-in-1 Cellular Antenna System with GPS Receiver (Black) |
| ANT-MB-02-R-W-6 | 2×2 MIMO Wi-Fi Dual Band Antenna (White) |
| ANT-MB-02-R-B-6 | 2×2 MIMO Wi-Fi Dual Band Antenna (Black) |
| ANT-MB-42G-Q-W-6 | 7-in-1 Cellular and Wi-Fi Antenna System with GPS Receiver (White / QMA) |
| ANT-MB-40G-Q-W-6 | 5-in-1 Cellular Antenna System with GPS Receiver (White / QMA) |
| ANT-MB-40G-Q-B-6 | 5-in-1 Cellular Antenna System with GPS Receiver (Black / QMA) |