Reliable Internet connectivity can provide enhanced enjoyment onboard and increased navigational capabilities (nautical charts, weather reports – or the location of the nearest marina), additional entertainment for the guests and crew (IP Radio/TV, news, social media) as well as secure corporate communications (VoIP, email and messaging). However getting reliable internet connectivity at sea has a number of specific challenges particular to this difficult and ever-changing environment.
What are your Challenges in Maritime Connectivity?
Fluctuating Network Availability
Network availability and speed of links vary based on the vessel's location. Peplink combines any connection to ensure connectivity is always available.
Bandwidth Need for Shipboard Resources
Incumbent satellite solutions can no longer accommodate the rising bandwidth requirements for streaming IPTV, email, access to company servers and external cloud and CCTV footages.
Connection Cost Control
To avoid data cost from spiraling out of control, Peplink can automatically prioritize data usage to lower cost connections, such as port WiFi over LTE, or local LTE over satellite.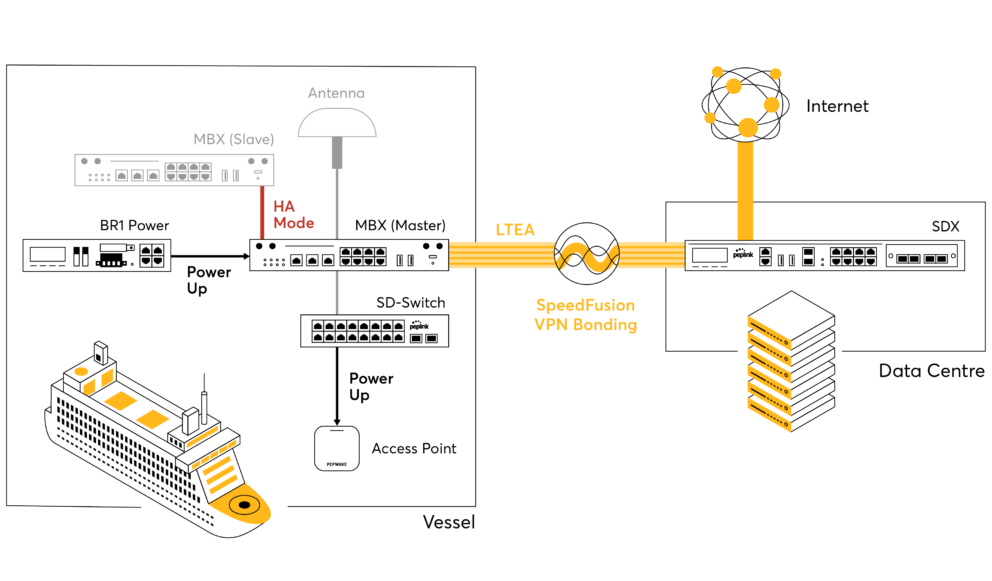 Featured Products
Connects to wide range of WAN options, from LTE-A, satellite modems, to fixed line networks
Modular architecture enables flexibility to build EPX according to your demand
30 Gbps router throughput – enough for all guests on large vessels
Supports 4 interchangeable LTE cellular modules which could be upgraded to 5G or any future mobile technologies
MBX can receive LTE signal offshore (with good antenna setup) to minimize satellite bandwidth cost
Supports WiFi as WAN near pier facilities
Deployed outdoor with IP67 waterproof rating
Integrated antennas to minimize cable loss, giving you the best signal possible.
Worldwide coverage with CAT12
Cost effective under PrimeCare model
Network switch fully manageable with InControl 2 cloud management
Multiple PoE+ output reduces cable needs
Add up to 8x SIMs
Mount the HD Dome / MBX on the Mast and manage SIMs from below decks
Access point extends WiFi signal to cover the whole vessel
Supports 802.11ax (Wi-Fi 6)
Fully manageable with InControl 2 cloud management
InControl 2
SIM Injector
FusionSIM Cloud
SpeedFusion Cloud
Anytime, Anywhere: InControl 2 simplifies your network by creating an endpoint to your devices, allowing you to take action, wherever you are.
Network Versatility: Being restricted to physical SIM cards located within your device is a thing of the past. Connect a SIM Injector directly via the LAN of your device and begin enjoying multiple carrier plans.
Flexible Cost Management: Use FusionSIM to avoid overage and high roaming charges by implementing a choice of multiple cellular connections suitable for any situation and location. 
Secure VPN: Create an unbreakable VPN tunnel by implementing SFC into your setup. A must-have for AS/Robotics, providing consistent, secure and reliable connectivity.