Reliable Internet connectivity can provide enhanced enjoyment onboard and increased navigational capabilities (nautical charts, weather reports – or the location of the nearest marina), additional entertainment for the guests and crew (IP Radio/TV, news, social media) as well as secure corporate communications (VoIP, email and messaging). However getting reliable internet connectivity at sea has a number of specific challenges particular to this difficult and ever-changing environment.
What are your Challenges in Maritime Connectivity?
Fluctuating Network Availability
Network availability and speed of links vary based on the vessel's location. Peplink combines any connection to ensure connectivity is always available.
Bandwidth Need for Shipboard Resources
Incumbent satellite solutions can no longer accommodate the rising bandwidth requirements for streaming IPTV, email, access to company servers and external cloud and CCTV footages.
Connection Cost Control
To avoid data cost from spiraling out of control, Peplink can automatically prioritize data usage to lower cost connections, such as port WiFi over LTE, or local LTE over satellite.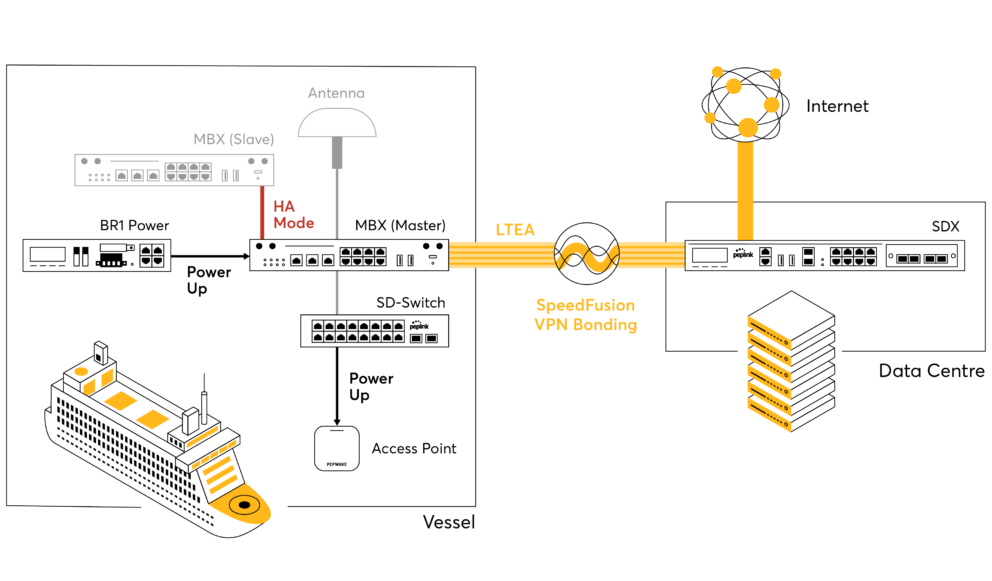 Featured Products
Connects to wide range of WAN options, from LTE-A, satellite modems, to fixed line networks
Modular architecture enables flexibility to build EPX according to your demand
30 Gbps router throughput – enough for all guests on large vessels
Single 5G IP67 router
Provides cellular connectivity to the network
IP67 rated enclosure to withstand different weather conditions
Connect to a compatible router to increase SIM slots
Allows convenient changing of SIM Cards
Provide heaps of redundancy
Modular Cellular router
Enables up to 4 cellular connections from multiple carriers
Aggregates all available links to form one large channel
Dual-cellular Multi-WAN router
USB Power input for flexibility
SpeedFusion technology for Bandwidth Bonding
Used to enhance signal reception and transmission
IP68 rated durable omnidirectional antenna
5G ready to make integration simple
PoE+ output for deployment flexibility
Provides power and connectivity for AP One AC Mini
Fanless Design. Ready for Any Environment
Provide user access control to various predefined user groups
Powered by the SD-Switch with the built-in 802.3af PoE input
Ease of management from either the AP controller or InControl 2, all from any web-browser
Peplink's on-demand data plan
Access to Multiple Networks Under One Plan
Simple & Convenient
InControl 2
Cloud-Based Network Management Platform
InControl2 cloud-based endpoint management system enabling remote access to any Peplink device on your network. From a single screen, configurations can be pushed to any and all of your Peplink devices. InControl2 also generates useful reports on all aspects of your network, and can be integrated to your existing systems through API.
Peplink for Superyachts
Solutions, Devices and Use Cases
Superyachts have long been bringing pleasure to their owners and guests, not only because of the view they can reach but also because of the luxury experience they deliver. However, to ensure the quality of trips onboard, unbreakable connectivity and a stable network should always be on standby. Get to know Peplink's connectivity solutions for superyachts by downloading the brochure.