Small is the new mighty.
Bring your deployments to life with the versatility of the MBX Mini. It's just as brilliant as any other MBX device we have to offer. So connect your devices to the PoE enabled LAN ports to provide network simplicity as well as IEEE 802.1X port authentication. This MBX Mini has the power to achieve it all.
Keep your connection flowing in whatever deployment that you're immersed in and deliver more power and redundancy with THREE power input options: AC, DC, and USB-C.
One. Two. Three. Four.
We know fast connections are critical to achieving great things. Its dual-band Wi-Fi and 5G capabilities ensure you experience the fastest available network. If the dual embedded cellular WANs are not enough, the MBX Mini can be expanded to FOUR cellular WANs by simply connecting it to our MAX Adapters via the dual USB ports.
Making hard to manage feel like hardly managing.
With this FusionSIM-ready router, you can say goodbye to switching and managing multiple SIMs via the router. FusionSIM offers remote provisioning of SIM profiles from anywhere in the world. Managing made easy, ready when you are!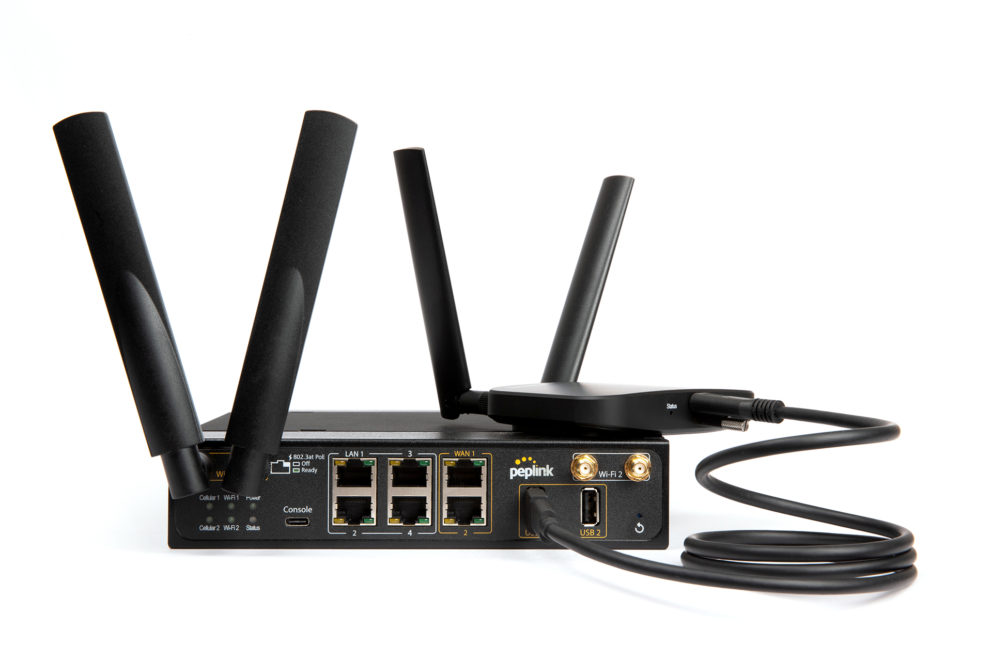 Experience on-demand connectivity with SpeedFusion Connect
Enabling the benefits of SpeedFusion has just gotten easier with SpeedFusion Connect. Allowing you to leverage the LTE of multiple connections and SpeedFusion technologies all under one subscription. Enabling backup connectivity has never been so simple!
*Compatible for use in the US and selected regions in Europe
WAN
Support for PPPoE, Static IP, DHCP
WAN Link Health Check
PING
IPv6 Support
DNS Lookup
HTTP
Bandwidth Allowance Monitor
USB 4G/3G Modem Support
Intelligent Failover
Support for Dynamic DNS services
changeip.com
dyndns.org
no-ip.org
tzo.com
DNS-O-Matic

LAN
DHCP Server for LAN Clients
Extended DHCP Option
DHCP Reservation
DNS Proxy for LAN Clients
VLAN on LAN Support
Per-Port VLAN Support

Load Balancing
Intelligent Failover
Session Persistence
Per-Service Load Distribution
Multiple Algorithms
Weighted
Enforced
Persistence
Priority
Overflow
Least Used
Lowest Latency
Fastest Response Time

Complete VPN Solution
SpeedFusion VPN
Site-to-Site VPN
Bandwidth Bonding
Hot Failover
256-bit AES Encryption
Pre-shared Key Authentication
Dynamic Routing
PPTP VPN Server
RADIUS, LDAP Authentication
IPsec VPN (Network-to-Network)
X.509 Certificate Support

Advanced QoS
User Groups
Bandwidth Reservation
Individual Bandwidth Limit
Application Prioritization
By User Groups
SIP, HTTPS, VPN QoS
Custom Application QoS

Networking
NAT and IP Forwarding
Static Routes
Port Forwarding
Many to One, One to One NAT
NAT Pool
SIP ALG, H.323 ALG
UPnP, NAT-PMP
WINS Server
VRRP HA Support
BGP, OSPFv2 and RIPv2 Support

AP Controller
Auto AP Discovery
Auto AP Firmware Management
AP Profile Configuration
Wi-Fi Usage Statistics

Security
DoS Prevention
Stateful Firewall
Web Blocking
Web Filtering Blacklist

Captive Portal
Support for Wired and Wireless LAN Clients
Support RADIUS Authentication
Time and Usage Quotas on Open Access Mode
Built-in Customizable Splash Page

Device Management
Web Administrative Interface
Command Line Interface
InControl Cloud Management
Email Notification
Active Client & Session Lists
Bandwidth Usage Statistics
Syslog Service
SNMP v1, v2c and v3


Product Code
Embedded Modems
Regions
5G Bands
LTE Bands
MAX-MBX-MINI-5GD-T
2x 5G
Global
5G (NSA) Sub 6Ghz:
n1, n2, n3, n5, n7, n8, n12, n20, n28, n38, n41,
n66, n71, n77, n78, n79

B1, B2, B3, B4, B5, B7, B8, B12, B13, B14, B17,
B18, B19, B20, B25, B26, B28, B29, B30, B32,
B34, B38, B39, B40, B41, B42, B46, B48, B66,
B71

MAX-MBX-MINI-5GH-T
2x 5G
Global*
5G (NSA) Sub 6Ghz:
n1, n2, n3, n5, n7, n8, n12, n20, n25, n28,
n38, n40, n41, n66, n71, n77, n78, n79
B1, B2, B3, B4, B5, B7, B8, B12, B13, B14, B17,
B18, B19, B20, B25, B26, B28, B29, B30, B32,
B34, B38, B39, B40, B41, B42, B46, B48, B66,
B71

MAX-MBX-MINI-5GN-T
2x 5G
Global
5G (NSA & SA) Sub 6Ghz:
n1, n2, n3, n5, n7, n8, n12, n13, n14, n18, n20,
n25, n26, n28, n29, n30, n38, n40, n41, n48, n66,
n70, n71, n75, n76, n77, n78, n79
B1, B2, B3, B4, B5, B7, B8, B12, B13, B14, B17,
B18, B19, B20, B25, B26, B28, B29, B30, B32,
B34, B38, B39, B40, B41, B42, B43, B46, B48, B66,
B71

*US Carrier Certification: AT&T, FirstNet, US Cellular, Verizon (C-Band)

| | |
| --- | --- |
| Product Code | Description |
| ACW-630 | 54V, 3.34A Power Supply |
| PVN-LC-05 | Up to 5 SpeedFusion VPN Peers License Key |
| PVN-LC-10 | Up to 10 SpeedFusion VPN Peers License Key |
| PVN-LC-20 | Up to 20 SpeedFusion VPN Peers License Key |
| ECP-MAX-MBX-MINI-5G-1Y | EssentialCare+ (1-Year) for MAX MBX Mini 5G |
| ECP-MAX-MBX-MINI-5G-2Y | EssentialCare+ (2-Year) for MAX MBX Mini 5G |
| ECP-MAX-MBX-MINI-5G-4Y | EssentialCare+ (4-Year) for MAX MBX Mini 5G |
| SVL-MAX-MBX-MINI-5G-1Y | 1-Year EssentialCare for MAX MBX Mini 5G |
| SVL-MAX-MBX-MINI-5G-2Y | 2-Year EssentialCare for MAX MBX Mini 5G |
| LIC-VWAN | Activate 1x Virtual WAN |
| LIC-2VWAN | Activate 2x Virtual WAN |
| LIC-3VWAN | Activate 3x Virtual WAN |

MBX Mini, PSU 180W (ACW-630)
4x Dual-Band Wi-Fi Antennas (ACW-341)
1x QMA to SMA Adapter (for GPS)
1x GPS Antenna (ACW-232)
Power Cord
1 Pair of Ear L-Mounts Kit (ACW-756)
Screw set of Ear L-Mounts Kit
3pin Terminal Block Connector (Ignition Sense)
4pin Terminal Block Connector (Power Supply)
Rubber Foot Pad set

*Cellular antennas not included. To enhance the MBX Mini, Mobility and Maritime antennas are recommended.

| Product Code | Description |
| --- | --- |
| ANT-MR-40G-S-W-6 | 4X4 MIMO 5G-Ready Maritime Antenna with GPS Receiver (White/ SMA / 6.5 ft / 2 m) |
| ANT-MB-42G-Q-W-1 | 7-in-1 Cellular and Wi-Fi Antenna System with GPS Receiver (White / QMA / 1 ft / 0.3 m) |
| ANT-MB-42G-Q-B-1 | 7-in-1 Cellular and Wi-Fi Antenna System with GPS Receiver (Black / QMA / 1 ft / 0.3 m) |
| ANT-MB-42G-Q-W-6 | 7-in-1 Cellular and Wi-Fi Antenna System with GPS Receiver (White / QMA / 6.5 ft / 2 m) |
| ANT-MB-42G-Q-B-6 | 7-in-1 Cellular and Wi-Fi Antenna System with GPS Receiver (Black / QMA / 6.5 ft / 2 m) |