An America-based retail company found their setup unreliable as they were using routers that heavily relied on the internet and one LTE SIM for backup. This meant that when the internet line was down, any open session would depend on the LTE SIM for connection. This resulted in slow backup speeds. However, a reliable connection is crucial in the retail industry as their point of sale, stock inventory, and even membership data cannot afford downtime.
The company was looking to upgrade their devices to those capable of better backup speeds at an affordable price. They turned to Peplink for a newer device that would allow their setup to Failover to 5G for backup speed should there be any disruptions.
Peplink's suggested solution included switching out their old routers for Balance 310 5G routers. With its SpeedFusion Hot Failover technology, the retail company can still use their existing internet connection, but will now failover to 5G. This leads to better bandwidth and more support for the backup function. And for its inexpensive price, the Balance 310 5G is ideal for multiple large-scale deployment. The retail company can then enjoy better reliability and speed without having to compromise their setup.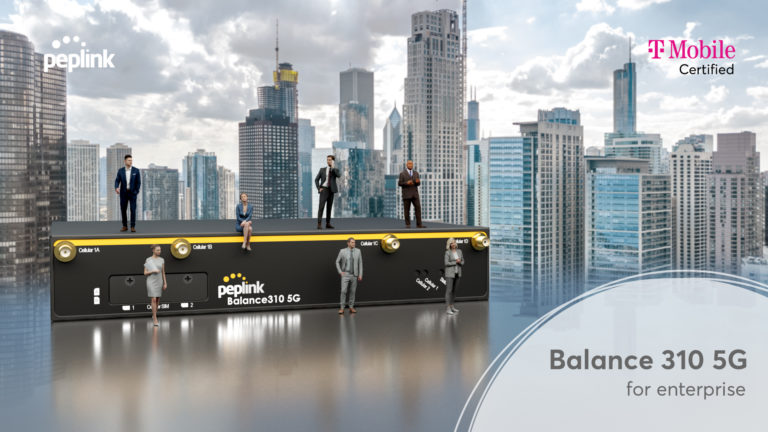 Especially with limited time, a secure and reliable connection is challenging to establish in remote areas. One of our U.S. partners teamed up with a Health Network to provide an efficient connectivity solution for their mobile clinic project.
Due to the need for high bandwidth, MAX HD4 MBX 5G routers were deployed to local sites. This on-the-go device provided connectivity from one 5G and three LTE connections, all via its embedded cellular radios. Its flexible power inputs paired with mobile generators allowed for the safe provision of consistent power. And to further equip the already shock and vibration resistant industrial design, each router was housed in a custom SpeedFusion case.
Two of another Peplink model, Balance 1350, were installed at the headquarters in a high availability configuration to provide optimal operational performance and a backup at times of high load. By linking the mobile clinics to the headquarters, a SpeedFusion VPN tunnel was created to provide secure connectivity for confidential data.
This resulted in SpeedFusion Bandwidth Bonding aggregating cellular links into one tunnel, making the network ready for a serious volume of data to be transmitted. Additionally, Load Balancing algorithms took place to fine-tune each connection depending on priority or even application.
A broadcasting team constantly uploads videos to share online, and regularly holds live streams to interact with viewers. The team was using routers with low throughput and poor cellular data uplink rates. This resulted in slow multimedia uploads and long delays for their broadcasts.
Knowing that they cannot continue with this setup, they turned to Peplink for a new connectivity solution. The broadcasting team required a setup that would deliver jitter-free content in real-time, and one that was portable as the team does broadcasts from varying locations.
The MAX Transit 5G router was suggested as the most optimal device as its high cellular data uplink makes it ideal for uploading multimedia content online. And with the MAX Transit 5G supporting a wider range of bands, the team can achieve lower latency, resulting in less buffering when hosting live streams. The device's dual-band Wi-Fi then maximizes throughput by allowing two independent networks to work simultaneously.
Also perfect for mobile deployments, the MAX Transit 5G has two Micro-USB B ports allowing the broadcasting team to use power banks as a stable power supply. They can now upload media content and organize live streams with ease anytime, anywhere.