Fully Optimized for Telemetry
BR1 Mini Core
Certified safe for work
With UL and Class 1 Division 2 certifications, among many others, the BR1 Mini Core is ready to handle demanding setups.
High Level of Security Compliance
Designed with strict security compliance in mind, we've minimized the number of vulnerabilities by removing the device's Wi-Fi & GPS components, making it great for networks that require a highly secure connection.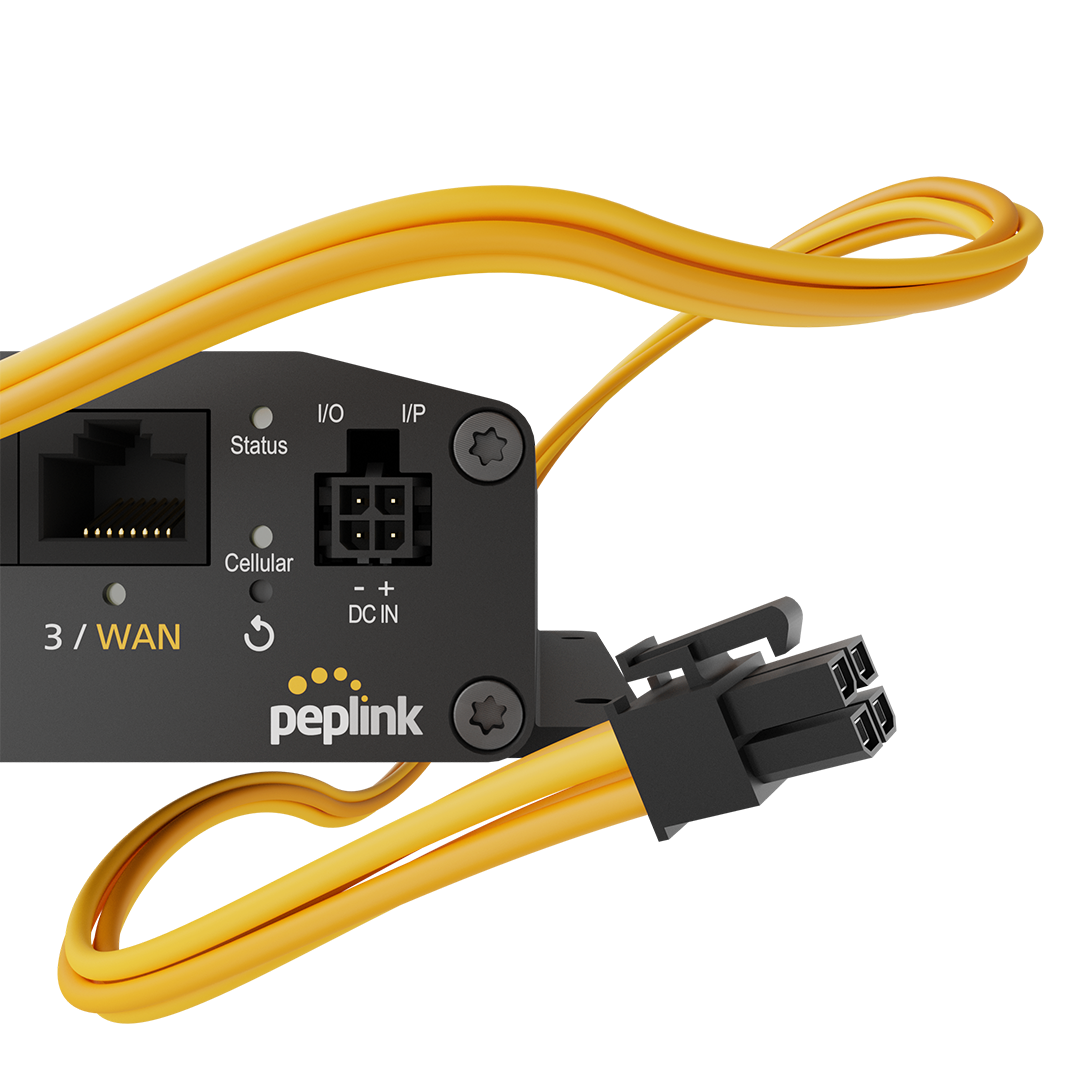 Full GPIO functionality
Seamlessly integrate telemetry devices into your network with the BR1 Mini Core's built-in I/O functionality.
Wide Power Range
Supporting a wide operational power range (AC/DC), we aim to make it easy for our users to sync up all their devices with zero hassle.
Ports and Connections
Software
Pepwave MAX Firmware
WAN
Support for PPPoE, Static IP, DHCP
WAN Link Health Check
Bandwidth Allowance Monitor
Support for Dynamic DNS services
IPv6 Support
LAN
DHCP Server for LAN Clients
Extended DHCP Option
DHCP Reservation
DNS Proxy for LAN Clients
VLAN on LAN Support

Load Balancing
Intelligent Failover
Session Persistence
Per-Service Load Distribution
Multiple Algorithms
-Weighted Balance
-Priority
-Overflow
-Persistence
-Least Used
-Lowest Latency
-Enforced
-Fastest Response Time

Complete VPN Solution
SpeedFusion VPN
SpeedFusion
– Site-to-Site VPN
– SpeedFusion Hot Failover^
– SpeedFusion WAN Smoothing^
– 256-bit AES Encryption
– Pre-shared Key Authentication
– Dynamic Routing
– PPTP VPN Server
– RADIUS, LDAP Authentication
IPsec VPN (Network-to-Network)@
Networking
NAT and IP Forwarding
Static Routes
Port Forwarding
Many to One, One to One NAT
NAT Pool
SIP ALG, H.323 ALG
UPnP, NAT-PMP
WINS Server

Security
Stateful Firewall
DoS Prevention
Web Blocking

Advanced QoS
Individual Bandwidth Limit
Application Prioritization
-SIP, HTTPS, VPN QoS
-Custom Application QoS

Certifications
FCC, CE *, RoHS
UL+CUL (62368-1) *
UL 121201 (Class I and Division 2) *
Device Management
Web Administrative Interface
Command Line Interface
InControl Cloud Management
Email Notification
Active Client and Session Lists
Bandwidth Usage Statistics
Syslog Service
SNMP v1, v2c and v3


^ Available with a feature pack add-on license.
* Certification pending
@   IPsec VPN supports connection with Cisco, Juniper, Peplink, or Pepwave devices.

Product Code
Embedded
Modem(s)
Regions
LTE Bands
3G Bands
MAX-BR1-MINI-LTE-US-T-M-PRM
1x CAT-4
North America*
B2, B4, B5, B12, B13, B14, B66, B71
WCDMA/HSPA+/DC-HSPA+: B2, B5
MAX-BR1-MINI-LTE-E-T-M-PRM
1x CAT-4
APAC, EMEA
B1, B3, B5, B7, B8, B20, B38, B40,
B41
WCDMA/HSPA+/DC-HSPA+: B1, B5, B8
MAX-BR1-MINI-LTE-MX-T-M-PRM
1x CAT-4
APAC, Latin America, Australia
B1, B2, B3, B4, B5, B7, B8, B28, B40
WCDMA/HSPA+/DC-HSPA+: B1, B2,
B5, B8

#  US Carrier Certifications: AT&T, FirstNet, T-Mobile, Verizon

Regions are for reference only. For specific location compatibility, please refer to the bands.

| | |
| --- | --- |
| Product Code | Description |
| PRM-MAX-BR1-MINI-1Y | 1-Year PrimeCare for BR1 Mini Core |
| PRM-MAX-BR1-MINI-2Y | 2-Year PrimeCare for BR1 Mini Core |
| PRM-MAX-BR1-MINI-4Y | 4-Year PrimeCare for BR1 Mini Core |
| MAX-BR1-MINI-LC-FP | Feature pack for BR1 Mini Core enables Ethernet WAN, Hot Failover, WAN Smoothing |
| ACW-634 | 10ft DC Power Cable |
| ACW-DIN-BR1-MINI | DIN Rail Mount |
| ANT-MB-20G-S-B-6 | 2×2 MIMO 5G-Ready Cellular Antenna System with GPS Receiver (Black) |
| ANT-MB-20G-S-W-6 | 2×2 MIMO 5G-Ready Cellular Antenna System with GPS Receiver (White) |

MAX BR1 Mini Core

MAX BR1 Mini Core
2x LTE Antennas (ACW-342)
1x 12V 2A 4pin Power Supply (ACW-632)