Designed for remote reliability with rugged enclosures and a host of management features. Allowing for easy deployment of private LTE networks that are ideal for commercial, manufacturing, emergency services, schools, small-scale LTE networks, remote sites, and campuses.
Challenges
Congestion
Especially in densely populated areas, wireless networks can get congested and lead to packet loss and interrupted sessions
Latency
Different sessions such as VoIP calls require high bandwidth, but large data transfers can slow down communications between client and server
Remote Connectivity
Even with the best technology and investment, cellular dead zones are inevitable especially in less urban areas
Security
Without proper security technologies, networks are exposed to hack threats and may lead to the theft of confidential information
The Big Picture
Technology
Hot Failover
Seamless Roaming
Bandwidth Bonding
Bandwidth Overflow
Seamlessly failover to backup connections when network disruptions occur. This protects your persistent sessions and keeps you connected.
CBRS and Wi-Fi work together to enhance coverage, improve reliability, and with seamless transitions between the two, ensure that your persistent sessions are not interrupted as you move around.
Combine the bandwidth of multiple connections together into a single bandwidth pipeline to accommodate for bandwidth heavy applications.
Optimize your connection by monitoring bandwidth usage and switching to the most suitable connection as usage changes. Switch to high bandwidth connections during peak bandwidth usage and less costly connections during periods of low bandwidth usage.
Benefits of Private LTE Networks
Education
A private LTE network can protect students and staff from cyber attacks and inappropriate websites while providing a reliable, interference-free network for students and staff to focus on learning and teaching.
Healthcare
A private LTE network can increase security and accommodate high bandwidth capacities, ensuring that large volumes of personal data are transferred quickly and securely, providing professionals with access to essential information and reports in a timely manner.
Manufacturing
A private LTE network can lower latency and increase wireless coverage, ensuring that IoT devices and automated machinery never lose connection and continue operating at real-time speeds, resulting in increased productivity and efficiency.
Featured Products
Provides a reliable connection with up to 3 options for connectivity
Features a Power Terminal Block for secure power supply installation
Deployable for remote learning with slim design that is suitable for a student environment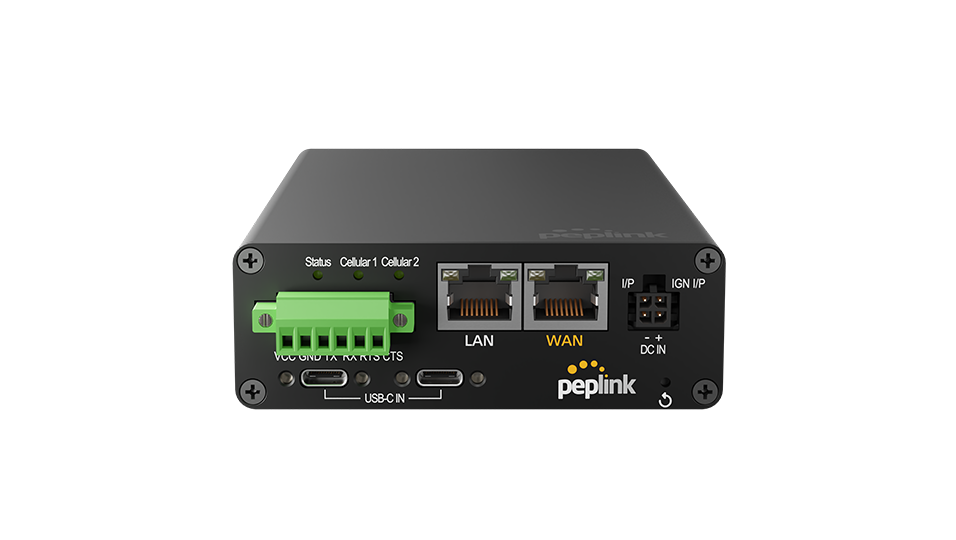 SD-WAN edge router designed in a compact form factor with high endurance
Supports multiple cellular carriers with SpeedFusion Hot Failover and bonding capabilities
Deployed to mobile applications with several certifications
Combines bandwidth of up to 4 cellular providers into one high-speed SD-WAN connection
Features a removable cellular module for upgrading to 5G when needed
Deployed for healthcare to form a fast and reliable VPN connection
Q. Will higher priority tiers interrupt my private LTE network?

Unfortunately yes, especially if you are located near US Naval bases. However, you can avoid any downtime caused by these interruptions with Peplink's SpeedFusion as long as you have a backup connection.

Q. Can a private LTE network be built on Peplink products?

Yes and no. Peplink devices connect user devices to LTE networks and cannot build an LTE network. This is why we have partnered with Ericsson to be able to provide a complete solution for private LTE networks.

Q. Which Peplink devices work in a CBRS network?

Below is a list of our CBRS-capable devices.

| | | |
| --- | --- | --- |
| CAT-12 | | MAX BR1 ENT, MAX Transit, MAX Transit Duo, MAX HD2, MAX HD2 IP67, MAX HD2 Dome, FlexModule for EPX, MAX HD4, MAX HD4 MBX |
| CAT-18 | | MAX Transit, MAX HD1 Dome, Balance 310X, MAX HD2 MBX, FlexModule for SDX/EPX/EPX Mini, MAX HD4 MBX |
| 5G | | MAX BR1 Pro 5G, MAX Transit 5G, Balance 310 5G, Balance 310 Fiber 5G, MAX HD4 MBX 5G, MAX Adapter |